Jeremić Participates in Special Candidates' Debate in Qatar
At the invitation of the Qatari government, CIRSD President and candidate for the post of UN Secretary-General Mr. Vuk Jeremić participated in the 16th Doha Forum.

The Doha Forum is one of the Middle East's most important high-level annual events, featuring globally-influential speakers from the world of international politics and economics.

A keynote event of the Doha Forum was a special plenary candidates' debate was organized. Featured speakers included Vuk Jeremić, Srgjan Kerim, Danilo Türk, Vesna Pusić, and Natalia Gherman.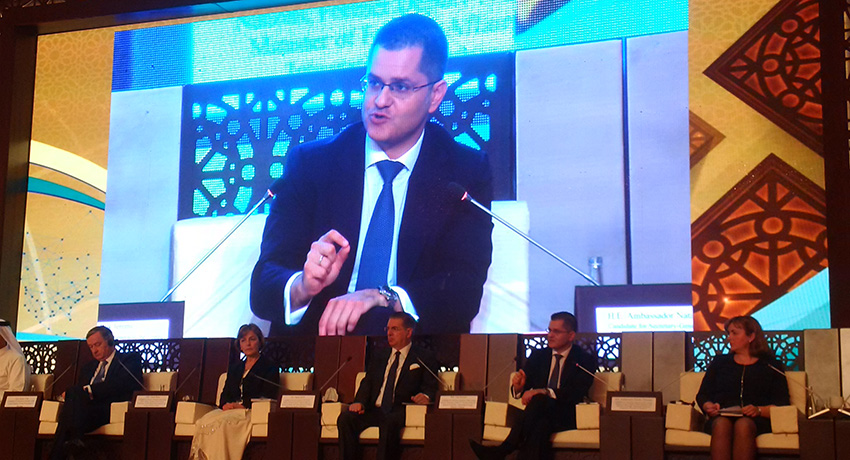 In his remarks, Mr. Jeremić spoke of the need for the UN to undertake important reforms so that it may be "fit for purpose in the 21st century." Without such reforms, the UN will neither be able to effectively guide the implementation process of the 2030 Agenda for Sustainable Development, nor undertake next generation peace operations in theatres such as the Middle East and Africa. This would "strategically undermine the quest to achieve more concerted, robust, and inclusive multilateralism," he concluded.

Jeremić illustrated his views on these issues with concrete examples drawn from his campaign platform: a detailed document containing 53 specific commitments that he would be prepared to implement as UN Secretary-General.

During the remainder of the Doha Forum, topics of discussion included preparations for the forthcoming World Humanitarian Summit; challenging the international security status quo; stability and prosperity in the Middle East; the state of the global economy; dialogue instead of conflict in the Gulf; and the role of civil society in developing countries.

Keynote speakers included the Emir of Qatar; the Secretary-General of the United Nations; the President of the UN General Assembly; the Presidents of Afghanistan, and Niger; and the Foreign Ministers of Argentina, Azerbaijan, and Norway.

Accompanying Mr. Jeremić at the Doha Forum was CIRSD Executive Director Mr. Zdravko Ponoš and CIRSD Senior Fellow Mr. Damjan Krnjević Mišković. Also participating were three members of the CIRSD Board of Advisers: Miguel Moratinos, Franco Frattini, and Hassan Wirajuda.

During this visit to Doha, Mr. Jeremić met with Qatar's Foreign Minister H.E. Sheikh Mohammed bin Abdulrahman bin Jassim Al-Thani, as well as with several other senior Middle Eastern dignitaries.