More Rights for More People - Revitalizing the Organization of American States
Login
Subscribe now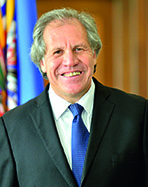 Luis Almagro is Secretary General of the Organization of American States and a former Minister of Foreign Affairs of the Oriental Republic of Uruguay. You may follow him on Twitter @Almagro_OEA2015.

Throughout its 127 years of existence, the Organization of American States (OAS)—the oldest regional organization in the world—has evolved analogously with the political and socio-economic development of its 35 member states. From the end of the nineteenth century and the geopolitical framework of the Cold War, to the "triumph" of liberal democracy and the onset of the wave of democratization, the OAS has fulfilled its role as the premier political forum of the Western Hemisphere.

Although it is true that the OAS echoes the realities of the times, as well as the will and mandates of its member states, the cornerstone of the Organization has always been—and must always remain—the people, the citizens of the Americas. Strengthening the notion of a citizen-centered multilateralism—by way of improving the democratic human rights, security, and development conditions of the people of the Hemisphere—is the ultimate raison d'être of the OAS.

In view of this core purpose, the current administration (2015–2020) of the OAS General Secretariat, which I am proud to lead, has designed and adopted a new strategy that intends to transform the OAS into an organization that is closer to the people. This is the basis for our guiding principle, held together under the slogan "More Rights for More People."

It is important to note that the idea of an OAS at the service of the citizens of the Americas is not new. The OAS Charter, signed in 1948, is a symbol of the agreement of member states "in the name of their people." Therefore, the "people" represent a fundamental element of the Organization's founding document. Similarly, the Inter-American Democratic Charter (IADC), signed unanimously by the member states in 2011, introduces a new right, democracy, for its key stakeholder, the people of the Hemisphere.

Historically, the OAS has evolved mainly as a function of the development of its member states, in addition to the region's geopolitical trends that have evolved over the course of its history. The priorities of the OAS have thus shifted accordingly, at times changing in a fashion that has mirrored ideological divisions instead of catering to the needs of the citizens of its member states. These changing organizational priorities can be described broadly from the perspective of three transitions.
To continue reading, please login or subscribe