Russia and the Geopolitics of Eurasia
Login
Subscribe now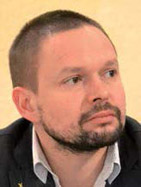 Nikolay Silaev is Research Director of the Foreign Policy Advisory Group and a Senior Researcher at the Center for Caucasian Studies at the Moscow State Institute of International Relations. Andrey Sushentsov is Program Director of the Valdai Discussion Club Foundation, Director of the Foreign Policy Advisory Group, and Associate Professor at the Moscow State Institute of International Relations. This essay is adapted from a report entitled "Russia's Allies and the Geopolitical Frontier in Eurasia."
The risk of Russia's involvement in low-intensity military conflicts has been growing since the early 2000s. Instability along many stretches of the Russian border has forced Moscow to increase its military presence in its neighborhood. Russia has military bases in high conflict risk areas, notably South Ossetia, Abkhazia, Moldova, Armenia, Kyrgyzstan, and Tajikistan. Also, Russia
cannot take a hands-off approach to developments in Afghanistan, Syria, and Ukraine, and will likely become involved in a potential confrontation in the Korean Peninsula or Iran, and a possible escalation of the conflict in Ukraine.
The number of regions where military force could be used to protect Russia's national interests has increased recently. These include not only areas within its national borders, but also areas in the regions that were part of the Soviet Union's zone of military and political responsibility during the Cold War. In 2013, the Kremlin proposed deploying Russian peacekeeping forces along the Syrian-Israeli border on the Golan Heights. Negotiations are underway to establish a Russian air force base in Cyprus, in direct proximity to the Russian naval base in Tartus, Syria.
In addition, Russian peacekeepers help maintain peace in the frozen conflicts of the CIS countries following the civil and international conflicts of the 1990s. A new potential source of military conflict developed on the Russian-Ukrainian border in 2014.
All told, this means that Russia will be unable to reduce its military presence on its border in the near future. Moreover, the current tendency is to expand the area of its military presence. This increases the risk of Russia's involvement in military conflicts, as a peace­keeper or the guarantor of the status quo.
Is this a deliberate and intentional process? Or is Russia's military might growing randomly, without any rationale or strategic plans? The biggest danger in this situation is that ideological priorities may prevail over rational considerations, forcing the country to overreach itself.
Geopolitical Frontier in Eurasia
Russia has acquired a new geopolitical status in recent years. It has reaffirmed its claim to a strong and independent role in international affairs, which its Western partners brought into question after the Soviet Union's dissolution. The military operation in Syria has helped Russia become a key factor in the post-conflict settlement to come; it has also demonstrated Russia's fundamentally new military and political capability.
To continue reading, please login or subscribe