Corruption and Democracy - Why and When Political Corruption Matters?
In principle, elections bring a promise of democratic accountability – allowing voters to sanction retrospectively politicians who fail to deliver good performance, and to proactively choose candidates they believe will perform best. Since most voters dislike corruption – a misuse of office for personal or political gain – the expectation is that elections serve as instruments to punish the corrupt or prevent from taking office those expected to misbehave. Indeed, there are instances where elections work as desired, as when Brazilian voters punish corruption found through government audits, or when Italian voters repudiate an entire political elite following the historic "clean hands" investigation in the early 1990s.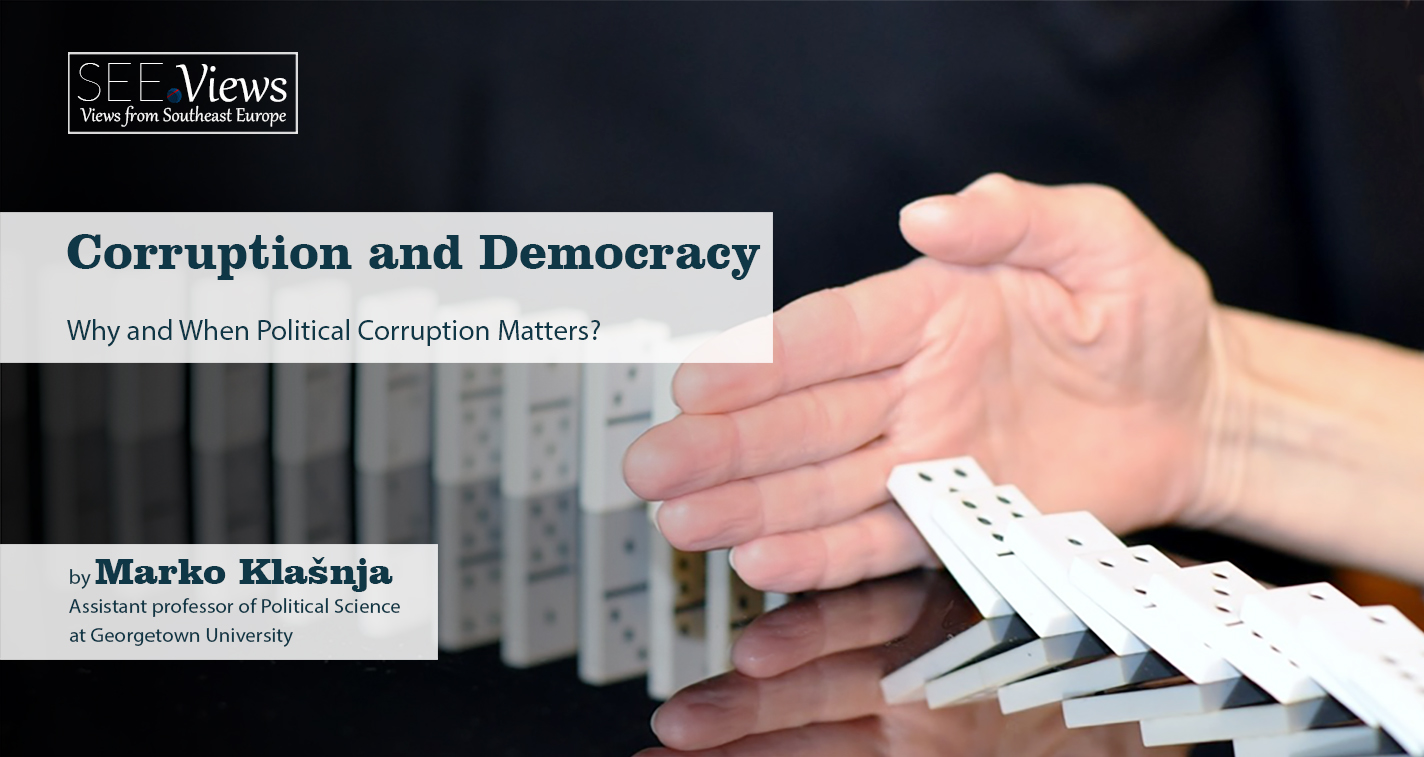 But for every success story, one can find plenty of evidence that elections fail to separate the wheat from the chaff. Even in some of the world's enduring and developed democracies, such as the U.S., Japan, France, and Spain, the majority of politicians accused of corruption have won reelection over the last several decades. One can easily imagine that corrupt politicians can look forward to yet greater electoral impunity in poorer and younger democracies, where corruption is considerably higher.
My research shows that countries can get stuck in a "corruption trap" despite the presence of elections. In a corrupt society, a corrupt politician may actually be more beneficial to voters' welfare than a clean one. For example, in the chaos ensuing after the fall of the Soviet Union, getting a business started in Russia often required bribing an entire chain of administrators and authorities, from the local legislature, to the local executive branch, the central ministry, the fire authorities, the water authorities, and so on. It is easy to imagine that a corrupt politician could be better able to navigate such an environment than an honest one. Voters may then condone corruption, in turn only further incentivizing those in power to be corrupt and encouraging those wishing to enrich themselves through politics to enter the fray.
Even when voters do not benefit from corrupt politicians, in poorer democracies corruption may take a back seat to issues more immediate to voters' concerns – such as economic growth. So long as the government is addressing basic developmental needs – building a water well, road or a school – voters may be willing to look the other way about a prime minister's newest villa. But when the economic growth is absent and the citizens' well-being is impacted, corruption can be a particularly bitter pill to swallow. Indeed, we presented citizens in Sweden and Moldova with a same scenario: a corrupt mayor in an average town in the country, presiding over either strong local growth or a struggling economy. In Sweden, corruption was damaging for our respondents' support for the mayor irrespective of the state of the economy; in Moldova, however, corruption was only important when coupled with a bad economic situation.
Anti-corruption actors and movements can jolt countries out of lethargy. Indeed, in my research in Slovakia we found that a series of successive corruption scandals involving no less than six cabinet ministers did nothing to raise the importance of corruption in citizens' voting intensions. Yet, an entry of a new technocratic anti-corruption party raised the salience of corruption and successfully increased its role in citizens' voting behavior. However, anti-corruption parties are unlikely to sustain democratic accountability on their own; one needs strong political and institutional foundations. Some of the cures are well known: an independent and impartial judiciary, a meritocratic, well-paid and competent bureaucracy; mechanisms of transparency, such as a mandatory asset disclosure system, a free and vibrant press.
But the key ingredient is political will, and it entails more than just an odd law-abiding leader willing to tackle corruption in her cabinet. One critical link is the very bloodstream of political life: political parties. Political parties in poorer and younger democracies are themselves often poorly organized to tackle corruption. Nominations are often bought rather than won in democratic intra-party competition. Defecting to another party is often easy, decreasing the ability of parties to discipline their members. As my research in Brazil shows, such a dynamic can easily lead to a vicious cycle of its own: weakly organized parties cannot prevent their members from engaging in corruption, which leads to their punishment by voters, which in turn further undermines the stability and strength of the party system, and so on. Therefore, a successful anti-corruption program very often needs to entail reforming a country's political system. Naturally, politicians reforming themselves is easier said than done.