2015: Time for Global Action for People and Planet
Ulogujte se
Pretplatite se
Amina J. Mohammed is the Special Advisor of the United Nations Secretary General on Post-2015 Development Planning. She was previously Senior Special Assistant to the President of Nigeria on the MDGs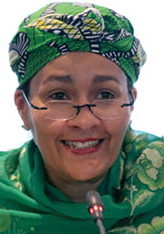 We the peoples of the United Nations determined to reaffirm faith in fundamental human rights, in the dignity and worth of the human person, in the equal rights of men and women and of nations large and small […] and to promote social progress and better standards of life in larger freedom […] and for these ends to employ international machinery for the promotion of the economic and social advancement of all peoples.
- Charter of the United Nations, Preamble

IN a speech she gave in Madrid in 2013, Mary Robinson noted that, at this point in her career, she no longer looked at hunger, under-nutrition, or the impacts of climate change through the lens of a political leader or UN representative, but rather "as a mother, and, more particularly, as a grandmother."

I believe it is imperative to remind oneself and reflect regularly from such a perspective. We all aspire for a better future for our children and their children. We would all agree on the fundamental principles of this future: an equitable world, free of extreme poverty and deprivations; where human rights are respected; where all people live in dignity and have equal opportunities to fulfil their potential, and access quality
education and skills development; where all people, and especially women, girls, the aged, youth, and children, and those who are marginalized, vulnerable, and excluded, have access to the basics of human needs—water, sanitation, nutritious food, health services and energy, provided in an affordable and sustainable way; where economies thrive and grow in an inclusive and sustainable way and lead to gainful and decent employment; where natural resources are preserved and climate change is kept below the two-degree Celsius increase; where people around the world live in safe, inclusive and sustainable cities and rural areas; and a more peaceful world, where governments and institutions are accountable and effective, ensuring the rule of law.
Da nastavite sa čitanjem, molimo Vas da se ulogujete ili pretplatite