ASEAN's Community-building Process
Ulogujte se
Pretplatite se
N. Hassan Wirajuda is a former Foreign Minister of Indonesia and co-founder of Indonesia's School of Government and Public Policy.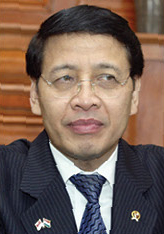 IT took a crisis to transform ASEAN from a rather loose association into a community. The East Asian monetary crisis that began in South Korea in 1997 quickly spread to Southeast Asia. It immediately affected Thailand, Malaysia, the Philippines, and Indonesia—key Member States of the Association of Southeast Asian Nations (ASEAN), together representing the largest proportion of the region's economies. Singapore was not struck by the crisis itself, but was also badly affected by its conse-quences. In fact, the crisis reduced ASEAN's economic competitiveness, which was a most dynamic sub-region before the crisis. At the 2000 ASEAN Summit in Singapore, our host, Prime Minister Goh Chok Tong, reflecting on its aftermath, stated that "of all foreign direct investments that came to Asia, 85 percent went to China. We can even question whether the remaining 15 percent came to Southeast Asia." As an antidote, Singapore proposed that ASEAN establish an ASEAN
Economic Community. Its leaders then decided to study the merit of Singapore's proposal.

Indonesia bore the brunt of the East Asian financial crisis and saw it turn into a multidimensional one. We, thus, immediately saw the merit of Singapore's proposal—provided, of course, that ASEAN develop a concept of community-building involving its ten Member States in a balanced manner. In other words, we supported Singapore's economic community concept as long as it was complemented by an ASEAN political and security community, for we had assessed that this was what was required in order to make sustainable the processes of intensified cooperation and integration.
Da nastavite sa čitanjem, molimo Vas da se ulogujete ili pretplatite