Funding the SDGs - Licit and Illicit Financial Flows from Developing Countries
Ulogujte se
Pretplatite se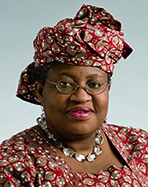 Ngozi Okonjo-Iweala is a former Minister of Foreign Affairs and Finance Minister of Nigeria, having also served as Managing Director of the World Bank. This essay is based on her University of Pennsylvania Law School 2015 Leon C. & June W. Holt Lecture in International Law. You may follow her on Twitter @NOIweala.

The question of licit and illicit financial flows from developing countries, and the role lawyers play in facilitating this process, is critically important in the context of the rise of the Global South.

Let me begin by setting some context. The Millennium Development Goals (MDGs) were a set of eight transformational goals identified as far back as the year 2000 by the United Nations and international development community as the key areas of focus for improving the quality of life in developing countries—including that of my home country, Nigeria. The MDGs were focused on reducing poverty, maternal and child mortality, improving primary education, and sanitation, amongst others.

The MDGs, which had a 15-year mandate, expired at the end of 2015. While significant progress was made towards the targets set in 2000, a lot still needed to be done. As of the beginning of 2016, hundreds of millions still live in extreme poverty and hunger, maternal health mortality is still high, around the world about 60 million children of primary school age are out of school, global CO2 emissions have increased, and so on. To this end, in September 2015 world leaders adopted the UN 2030 Agenda for Sustainable Development during a global summit at UN Headquarters, thanks in part to input and recommendations received from the UN Secretary-General's High-level Panel of Eminent Persons on the Post-2015 Development Agenda, on which I was proud to serve. The central component of what ended up being adopted in New York consists of a new set of goals, known as the Sustainable Development Goals (SDGs). With 17 proposed goals and 169 targets, the SDGs this time are universal. They apply to all countries, not just developing ones, and are designed to serve as the focal point for governments to hinge their policies to end poverty and hunger, ensure access to affordable and sustainable energy for all, build resilient infrastructure, combat climate change and its impact, and promote the rule of law and equal access to justice for all, amongst others.
Da nastavite sa čitanjem, molimo Vas da se ulogujete ili pretplatite