Leveraging Leadership and Resources - The African Development Bank, Sustainable Development, and Climate Resilience
Ulogujte se
Pretplatite se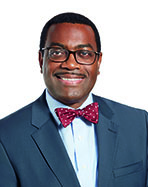 Akinwumi A. Adesina is President of the African Development Bank, having previously served as Nigeria's Minister of Agriculture and Rural Development. You may follow him on Twitter @akin_adesina.


The mission to which I have pledged to dedicate myself as the newly-elected President of the African Development Bank is centered on expanding opportunities and unlocking potential—for countries, women, youth, the private sector, and the African continent. As we unlock these potentials we will unleash a new wave of growth and development shared by all.

While Africa's economies are growing, inequality is increasing all over our continent. The sparkle in the eyes of the fortunate few is drowned out by the sense of exclusion by the majority. Hundreds of millions of people are left behind-most of them are women and young people. They do not feel the impact of economic growth in their lives. Our collective challenge is to drive inclusive growth—growth that will lift millions out of poverty. Africa can no longer be content with simply managing poverty. For the sake of our future and the future of our children, we must eliminate it.

We must integrate Africa—grow together, develop together. Our collective destiny is tied to breaking down the barriers separating us. From large to small nations, from countries on the coast to those far inland, from the island states that depend on the blue economy, to states coming out of conflicts with resilience and determination, our aspirations are the same—to deliver quality growth and development and to see all Africans prosper.

As we open up Africa with high quality regional infrastructure—especially rail, transnational highways, information and communications, air and maritime transport—the continent will witness a phenomenal boost in intra-Africa and global trade, which will unleash the entrepreneurial spirit of small businesses, large businesses, and millions of our young people. By strengthening regional approaches to the development and delivery of our programs, including financing and advisory services, the African Development Bank will reduce inequalities between regions and countries. Through partnerships with regional economic communities and the African Union, we will make progress toward our shared goal of truly integrating Africa.

We must build more resilient economies and reduce fragility risks. A one-size-fits-all model to financing development should give way to customized support to fragile states and countries emerging from conflict. They need our understanding and deserve our support and confidence—a confidence in their ability to build stronger political, economic, and social institutions. Our confidence that they can—if well supported—foster inclusive growth by effectively managing their resources for the development of their peoples. The resilience and doggedness shown by Liberia, Sierra Leone, and Guinea in the face of the Ebola crisis, and the success of Nigeria in tackling the pandemic, clearly demonstrate that political will is the currency of development.
Da nastavite sa čitanjem, molimo Vas da se ulogujete ili pretplatite