U.S.-China Relations in 2019
Login
Subscribe now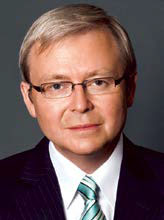 The Honourable Kevin Rudd is Australia's 26th Prime Minister and President of the Asia Society Policy Institute in New York. An earlier version of this essay was given as an address to the Asia Society in New York City in December 2018 and subsequently appeared in an edited volume of the author's speeches entitled The Avoidable War: Reflections on U.S.-China Relations and the End of Strategic Engagement. You may follow him on Twitter @MrKRudd.
Over the last year or so, much of Asia has been turned on its head through the new dynamics we have witnessed in U.S.-China relations and on North Korea. Think back to the not so distant past when the United States and North Korea appeared to be on the verge of armed conflict, as "Rocket Man" was threatened by President Trump with "fire and fury" over the North's continued nuclear weapons program. A little over a year later, President Trump and Kim Jong-un appear to be the best of friends following their historic summit in Singapore, and despite the fact that there seems to have been negligible substantive progress on denuclearization, the thaw in inter-Korean relations has been unprecedented.
Fourteen months ago, President Trump had just returned from his state visit plus to Beijing, where it seemed Trump's anti-Chinese rhetoric of the 2016 campaign had finally been put to bed. But more than a year later, China and the United States are now in the middle of a still unresolved trade war, while the administration has declared that America's 40-year-long era of strategic engagement with China is now over and a new period of strategic competition has begun.
Fourteen months ago, the American, European, and Chinese economies and markets were roaring. Whereas 14 months later, they are beginning to slow, albeit for different reasons, causing concerns about the sustainability of long-term growth, employment, and income levels. If a week is a long time in politics, in international politics and economics, a year is an eternity. And China remains a dominant driver in all three of these major unfolding changes. During the course of 2018, we wrestled with three big questions: How is China changing under Xi Jinping? How is America changing under Donald Trump? And to what extent have the traditional moorings of the U.S.-China relationship of the last 40 years now been severed, in which case what, if anything, can now anchor the relationship into the future?
In other words, are we now, as Graham Allison warns us, "destined for war"—either cold, medium, or hot? Or is a new strategic equilibrium now possible between the two countries, based on a new common strategic narrative for the relationship that can be shared and observed in both capitals. The truth is, these are genuinely hard questions. They force us to think clearly about one another through the fog of perception and misperception. They force us to think clearly about our values, our interests, and our identity. And they force us to think through carefully what is essential, what is nonessential, where there should be compromise, and what should remain contestable.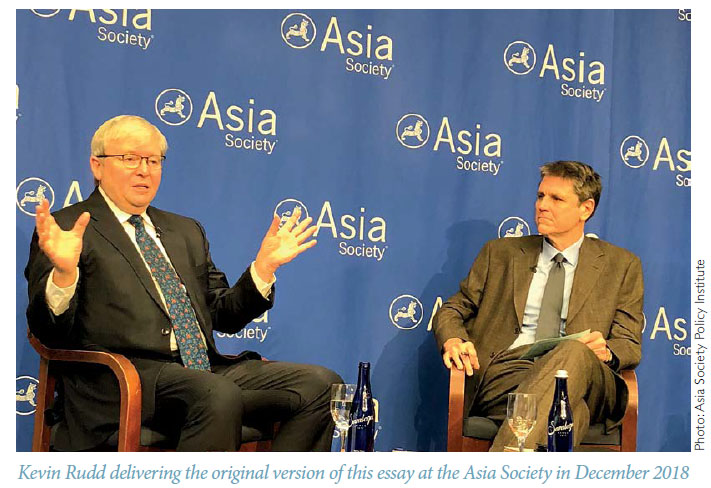 I do not intend to try to answer all these questions in this essay because they require further thought, although I am deeply conscious of the fact that they must be analyzed and answered soon. That is because we are now in potentially dangerous terrain—some sort of "no man's land" between one set of strategic assumptions about each other that have stood for several decades, and a brave new world where everything may be up for grabs.
I want to look at the state of the relationship in the aftermath of the G20 Buenos Aires Summit; the impact of the continuing trade war on China's unfolding domestic economic policy debate and where that may lead in the future; as well as what the prospects are for the overall U.S.-China relationship for the rest of 2019. I am always challenged by Henry Kissinger, who enjoins us in strategic analysis to understand first and foremost what we are seeing, and to ask ourselves also what we are not seeing. All before going onto the critical question of policy: "what then is to be done?"
To continue reading, please login or subscribe