Mobilizing Resources for the Post-2015 Development Agenda
Login
Subscribe now
Sam K. Kutesa is President of the sixty-ninth session of the United Nations General Assembly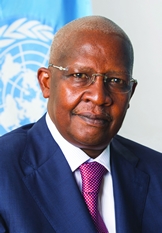 THIS is truly a historic and momentous year. We have a once-in-a-lifetime opportunity to change our world for the better. And we must seize it. To do so, we need ambitious and successful outcomes from three interrelated processes: the Summit for the adoption of the post-2015 development agenda, to be held in September in New York; the Third Financing for Development (FfD) Conference, to be held in July in Addis Ababa; and the Twenty-first Conference of the Parties on Climate Change (COP21), to be held in December in Paris.

As President of the General Assembly, I chose "Delivering on and Implementing a Transformative post-2015 Development Agenda" as the overarching theme of the sixty-ninth session. Throughout my term, I have continued to underscore the importance of ensuring that this new agenda is not only ambitious, inclusive, and transformative, but-most importantly-that it is accompanied by adequate means for effective implementation.

The new universal development agenda, currently being formulated by Member States and other stakeholders, represents our collective commitment to humankind and the planet.

To continue reading, please login or subscribe