The Middle East and Energy Security - A Cyprus Perspective
Login
Subscribe now
Nicos Anastasiades is President of the Republic of Cyprus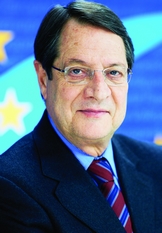 A FUNDAMENTAL principle of international relations is that the geopolitical role any country aspires to assume is a dynamic process; its evolution depends not only on its geographic location, but also on the volatility of the environment in which it operates, as well as on its foreign policy orientations and objectives-including the ways and means of implementing them.

Geographically, Cyprus has the privilege of being a crossing point between Europe, Asia, and Africa. It is the most southeasterly corner of the European Union. Cyprus illustrates, in the most vivid colors, the basic rule of geopolitics: that history is defined primarily by geography. We are striving to turn geography into a blessing, and remain truly committed to the efforts to reunify Cyprus, which has been divided since the 1974 Turkish invasion. The division of Cyprus is truly an open wound—one that prevents our island country and its people from fully utilizing their enormous potential.

Principle and Predictability
Cyprus is adopting a constructive, predictable regional role that steers away from conflicts. One of the primary objectives of my government—which is actively being implemented—is enhancing and further developing good relations with our neighbors and all those countries with which we share a common vision for a stable, peaceful, and prosperous Eastern Mediterranean. This remains in line with our traditional principled stance on the need to abide by international law.
To continue reading, please login or subscribe